Our Hawaii Lava Update
Kohala Coast resorts are safely located 85 miles from Hawaii's lava activity!
Here on the Big Island we are honored to be the home of many naturals wonders including the continuously active Kilauea Volcano located in Hawaii's National Park. As residents of the Big Island we are all keeping close attention to the volcano, emissions and seismic activity. As shown below on the map,  the resort areas are 85 miles from the active flow in Pahoa (Red Circle), and 100 miles from Kona International Airport. A 13,000 ft. mountain also stands between us and the active flow. The Mauna Lani and Waikoloa Resorts located on the South Kohala Coast (Yellow Circle) are home to trade winds ranging from 12 to 25 mph daily with clear skies, sunshine and hardly any volcanic haze or "vog".
We do highly recommend keeping your distance from the Pahoa/Volcano area in efforts of respect to all the families affected in this devastating time. Pele the Hawaiian Goddess of Fire is a force not to be reckoned with. Our prayers for the residents affected by this natural disaster.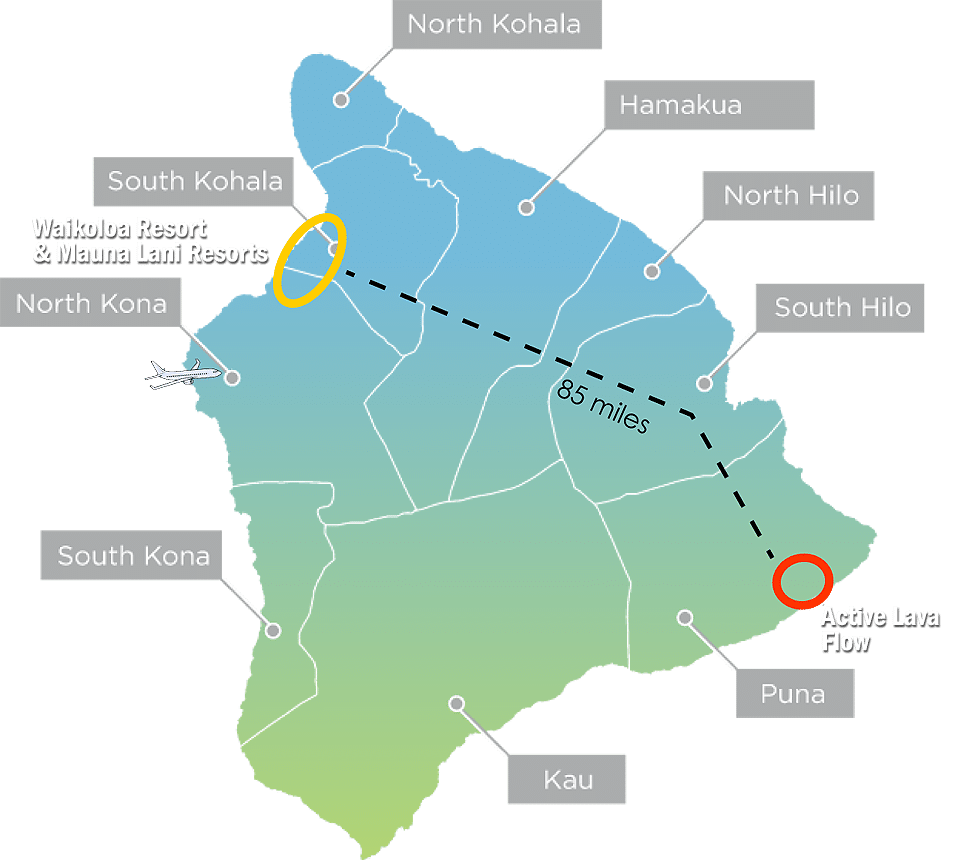 https://kohalacoastpropertiesinc.com/wp-content/uploads/2018/02/kohala-coast-retail-properties-big-island-trans2-sm.png
0
0
kohala
https://kohalacoastpropertiesinc.com/wp-content/uploads/2018/02/kohala-coast-retail-properties-big-island-trans2-sm.png
kohala
2018-07-09 15:04:10
2018-07-09 15:17:02
Kilauea Eruption Flow Hawaii Lava Update