Once you step off the airplane in Hawaii, the first thing you notice is that the air smells differently. This, in part, is because there are so many flowers here. Everywhere you look, there seems to be a splash of color and something in bloom. A mild soothing fragrance and bright colors give Hawaiian flowers an aesthetic appeal and are one of the reasons why Hawaii is called a tropical paradise. The official state flower of Hawaii is not the orchid or plumeria, as most of us would assume, but the yellow Hibiscus, also known as the pua aloalo. Flowers are considered an integral part of Hawaiian culture and are used in beautiful leis and celebratory arrangements. Below is a list of the most popular flowers, plus some tips on how to wear them.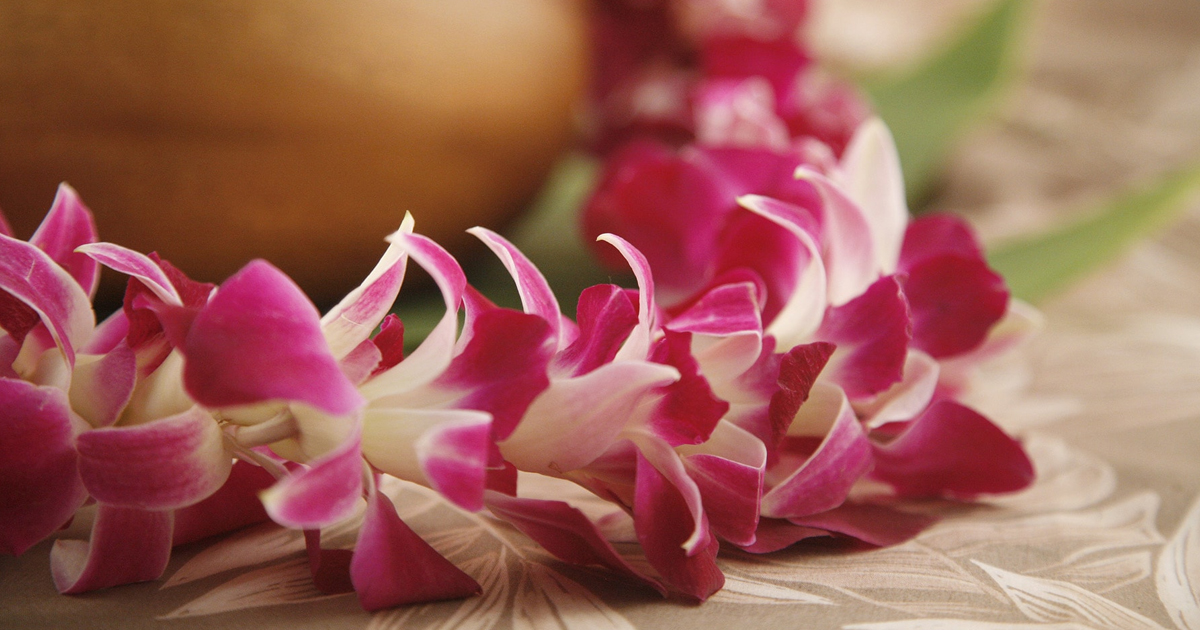 1.
Orchid
Hawaiian Orchids are available in a dazzling spectrum of colors but can mostly be found in the famous purple and white leis. These royal flowers are sturdy enough to withstand being strung together, all while maintaining their stunning composure. The best-known species of orchid in Hawaii are the Dendrobium and the Epidendrum.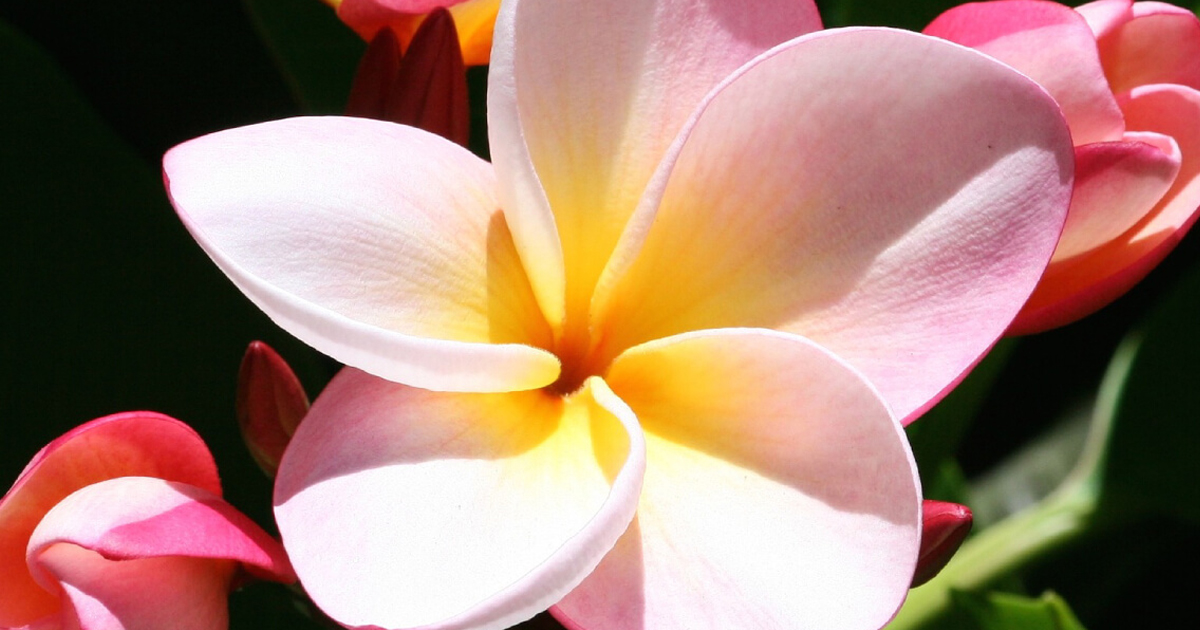 2.
Plumeria
One of the most delightfully scented flowers in Hawaii, Plumeria can be found in white, pink, red, and yellow. Commercially grown in Hawaii for lei production, these flowers are the perfect accessories for a decorative welcome home lei or worn behind your ear.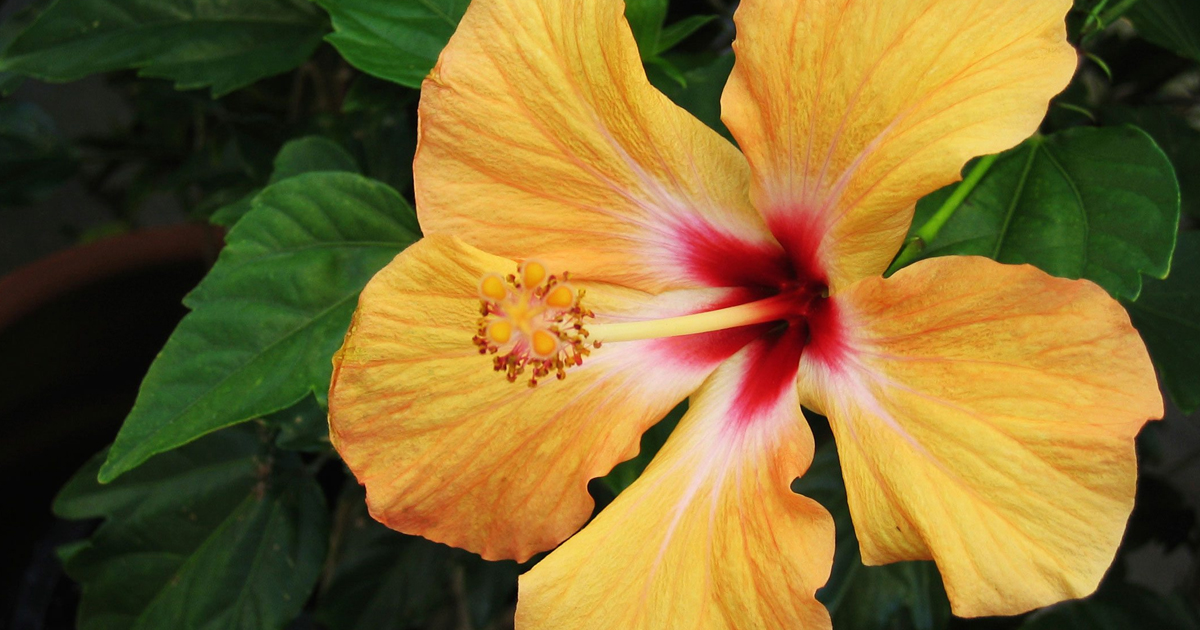 3.
Hibiscus
The official state flower of Hawaii, Hibiscus, can be seen growing just about everywhere— from on the side of the road to tucked away in most backyards. At one point, they were considered endangered; however, today, over thirty new species have been introduced into the island's fertile environment. The interesting thing is that Hibiscus doesn't have much scent like other flowers, but it looks absolutely amazing.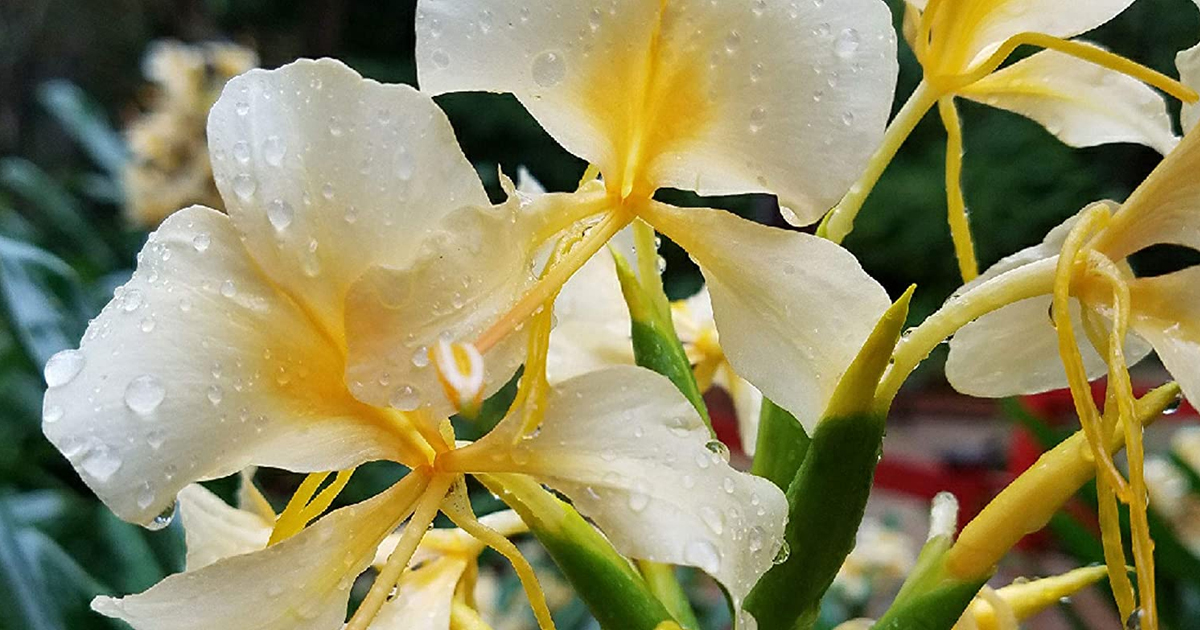 4.
Ginger (Awapuhi)
A large tropical herb, you can find many types of ginger growing wild in Hawaii. Ginger is not native to Hawaii, but its variety of blooms are used in leis and cut flower arrangements. Intricately woven Leis made from the sweet-smelling white ginger flowers are a favorite for special occasions.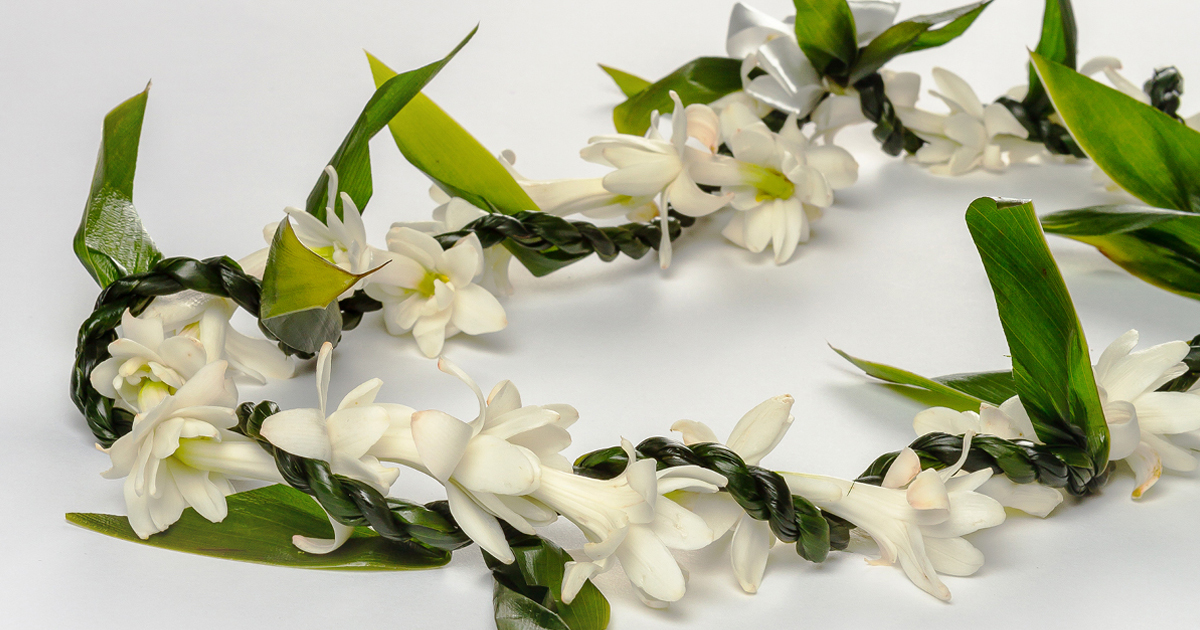 5.
Pikake
The Hawaiian name for Jasmine, Pikake translates to "peacock," one of Princess Kaiulani's favorite types of birds. The light and bright scent of Pikake is considered one of Hawaii's signature scents.
Ways to Wear Hawaiian Flowers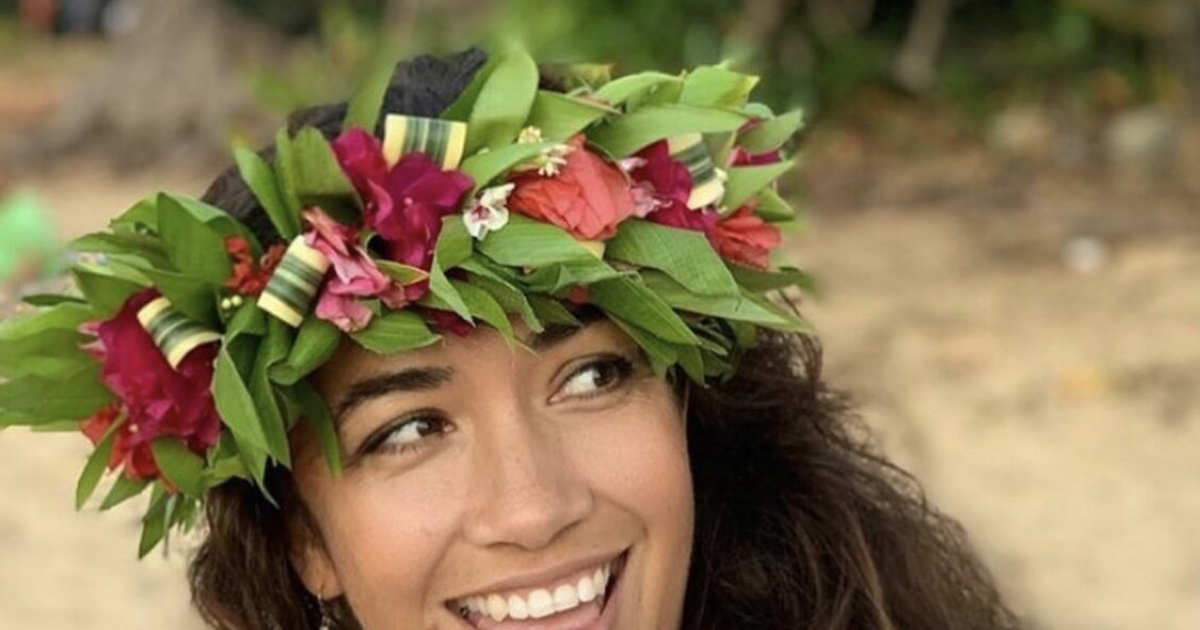 Haku lei
This type of lei is a flower crown or headdress. Having become increasingly popular in the last few years (outside of the historical Hawaiian culture), Haku lei is the perfect way to tie in the Aloha Spirit into weddings, birthdays, graduation ceremonies, May Day, and much more.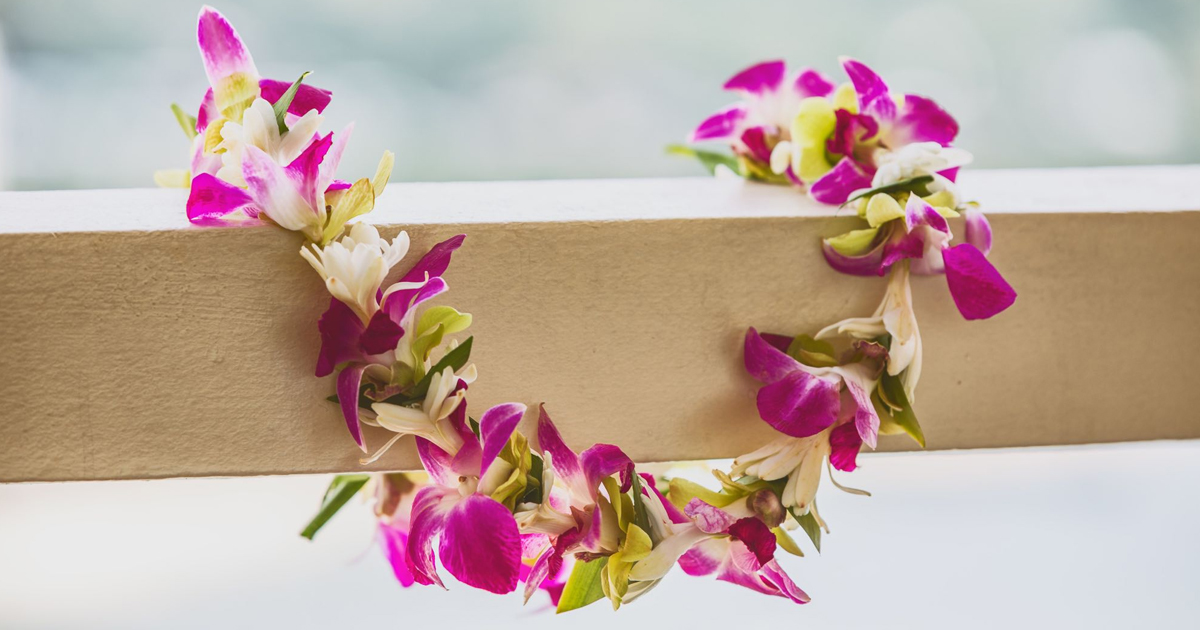 Lei
A collection of blossoms tied and hung around your neck, traditional Hawaiian leis are a fun way to showcase Mother Nature's beauty while celebrating loved ones. Not only do visitors and locals partake in this custom, but there are also several ways to go about it. There are many different styles to choose from, from the Hili lei (braided Ti leaf) to the flattened Christina Lei (braided Ti leaf). Leis aren't always made out of flowers; in fact, a large majority include Ti leaves, Kukui nuts, and shells in addition to paper money, bones, and feathers.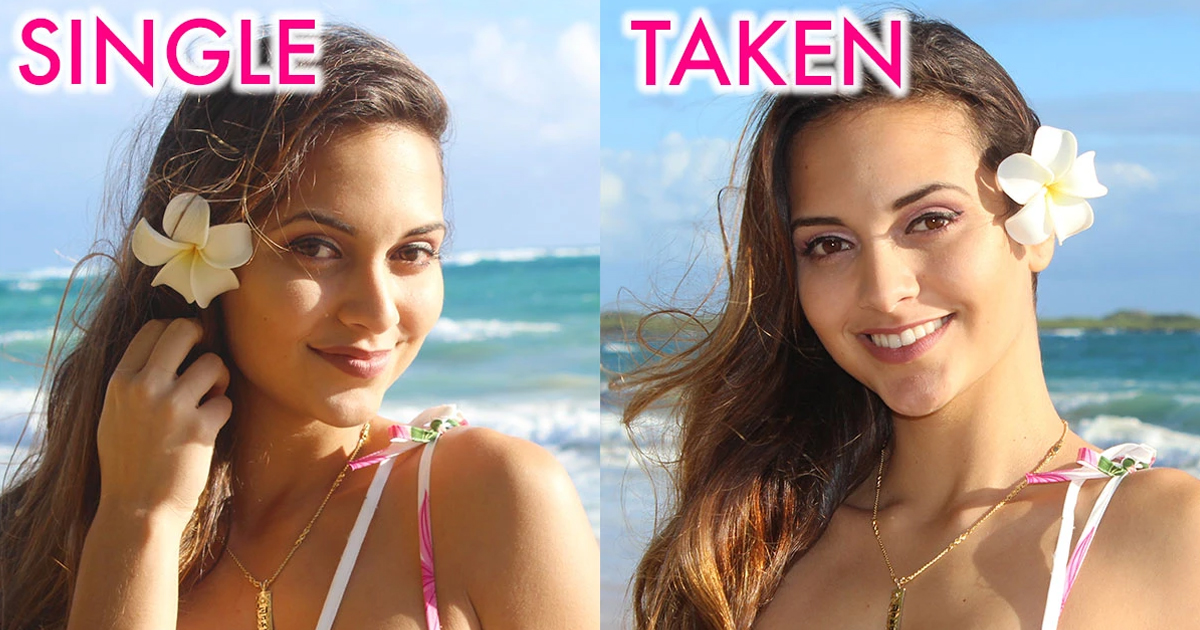 Flower behind your ear
It's a well-known fact that wearing a flower behind your ear is much more than just a fashion statement. In the Hawaiian culture, if you wear a flower behind your left ear, you are married or unavailable. Wearing a flower on the right side signifies the opposite, that the person in question is single and possibly looking for love. And if you wear it in the middle, then you are undecided. So be sure to wear it accordingly!
What are your favorite Hawaiian flowers? Please share in the comments below.
Save on your Hawaii vacation rental
Remember, you can always save 10% on your vacation rental when you book direct with us and mention "Aloha escape" in your reservation.
We hope to see you soon – a hui hou!
Images courtesy of LoveBigIsland.com, BigIslandHikes.com, Inoptia.