Visiting the Big Island of Hawaii in Winter
Knowing when to visit the Big Island of Hawaii is essential when planning your Big Island trip or vacation. There is really no wrong time to visit the Big Island – its incredibly wide diversity and geography suit almost any type of traveler. However, winter brings opportunities to see and do things that you may not be able to do during other seasons.
As winter hits the islands, it is the end of the heat and humidity. You don't have to endure much of the late summer heat, usually between June-August. Instead, you will find pleasant trade winds, and it is the perfect temperature to enjoy an afternoon walk. You will find yourself wearing shorts and tank tops and still spending days at the beach.
Typically, temperatures during the winter months highs range from 70-80 degrees. The typical lows range from 64-69 degrees. These temperatures are typical of the South Kohala area (Waikoloa Beach Resort, Waikoloa Village, Mauna Lani Resort, and Mauna Kea Resort Areas) on the west side of the Big Island, which is considered the "semi-dessert" ecosystem.
December through February sees the coldest and wettest weather on the Big Island, but it's still a pleasant time to visit. The winter weather makes for better surfing and waterfall chasing. It also brings the best chance of sighting whales, whale sharks, and hammerhead sharks. Here's what to do on the Big Island in winter.
Whale watching
Winter is a season for whale watching. Hawaii is a favorite wintering spot for humpback whales, which means you can look out to sea on any winter day and spot these majestic creatures. Hawaii is the only state in the U.S. where humpback whales mate, calve and nurse their young, and has one of the largest seasonal populations of North Pacific humpbacks in the world. The whale season lasts from November to May, with the peak of the season between January and March. Join a whale-watching tour and search for migrating humpback whales in the shallow waters. Click here for whale watching best places and tips.
Star gazing
Take advantage of the clearer skies over Kona and go stargazing on Mauna Kea. The Big Island of Hawaii is one of the prime spots on earth for stargazing. You will be amazed at how close and clear the stars appear. The best place to do it is the Mauna Kea Summit which is the reason it is home to many world-class telescopes and observatories. Start by watching a beautiful sunset from the top of the mountain, then come down to the Visitor Center level for stargazing. Provided the sky is clear, this will be one of the most striking scenes you will ever see in your life. The sky appears white from the countless numbers of stars, and you can even see a swoop of the Milky Way, which is quite stunning. You can drive there by yourself or book a tour (recommended). For information, click here.
Waterfalls and ziplining
Waterfalls are at their fullest in winter, and it is a great time to see them or go ziplining over roaring rivers, waterfalls, or lush jungles. We recommend booking a Zipline Adventure tour with Hawaii Zipline Tours, the #1 zipline tour in Hawaii as voted by Hawaii Magazine's Best of the Best Awards. You can ride seven amazing ziplines with awe-inspiring landscape and ocean views on a working agricultural farm on the historic Hamakua Coast on the island's east side. Soar high above and over our private 250ft Kolekole waterfall! Kolekole Falls is just downstream from the Famous Akaka Falls. Learn about Hawaii Islands' flora, fauna, and culture on this thrilling Big Island zipline adventure. For more info on booking a tour, visit the company's website.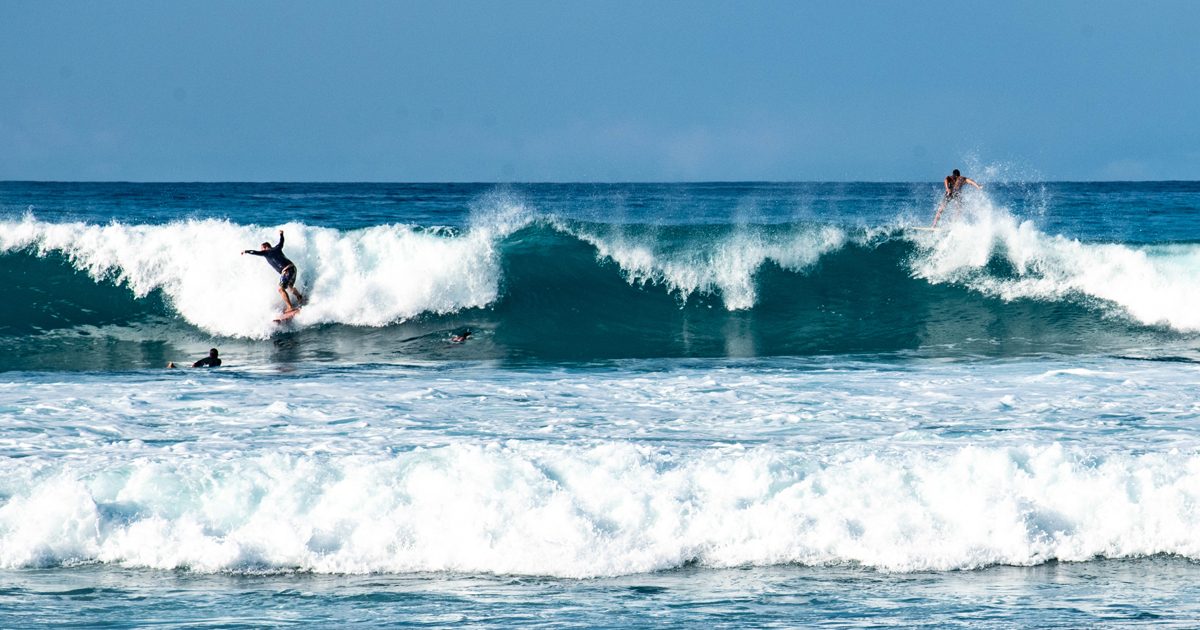 Surfing
Wintertime brings with it high surf. You can take advantage of the higher swells and go surfing. You can also take a surfing lesson if you are not an experienced surfer. Learn how to surf from some of the best surfing teachers. This is a great way to have fun and try something new. Learn more about booking a surfing lesson here.
Hiking
Winter is also the best time for hiking, as it is not that hot, and the sun is not as intense as in summertime. The Big Island is an outdoor paradise for hikers. The low population density, miles and miles of hiking trails, waterfalls, and many different climate zones make hiking one of our favorite pastimes on the island. 11 out of 13 climate zones worldwide are represented on the Big Island, which means that you can see a totally different view around every corner. Click here for the five best hikes on the Big Island.
Waimea Cherry Blossom Heritage Festival
Many tourists are surprised that the Big Island celebrates cherry blossom season in early February. The Waimea Cherry Blossom Heritage Festival takes place early in the month as the stunning beauty of cherry trees over 60+ years old bloom at Church Row Park.

Save on your Hawaii vacation rental
Remember, you can always save 10% on your vacation rental when you book direct with us and mention "Aloha escape" in your reservation.
We hope to see you soon – a hui hou!
https://kohalacoastpropertiesinc.com/wp-content/uploads/2022/08/A-Bay_beach.jpg
630
1200
Alice Hughes
https://kohalacoastpropertiesinc.com/wp-content/uploads/2018/02/kohala-coast-retail-properties-big-island-trans2-sm.png
Alice Hughes
2023-01-12 20:11:37
2023-02-16 16:27:23
Visiting the Big Island of Hawaii in Winter