Summer is the best time to enjoy the ocean on the Big Island of Hawaii, and that includes snorkeling. Known for its diverse marine life and crystal-clear waters, the Big Island offers a plethora of incredible snorkeling opportunities. Whether you are an experienced snorkeler or a beginner looking to explore the underwater world, this guide will take you on a journey through the top snorkeling spots on the Big Island. We will also share valuable insights on where to rent equipment and tips for an unforgettable snorkeling experience. Get ready to dive in and discover the breathtaking beauty that awaits beneath the surface!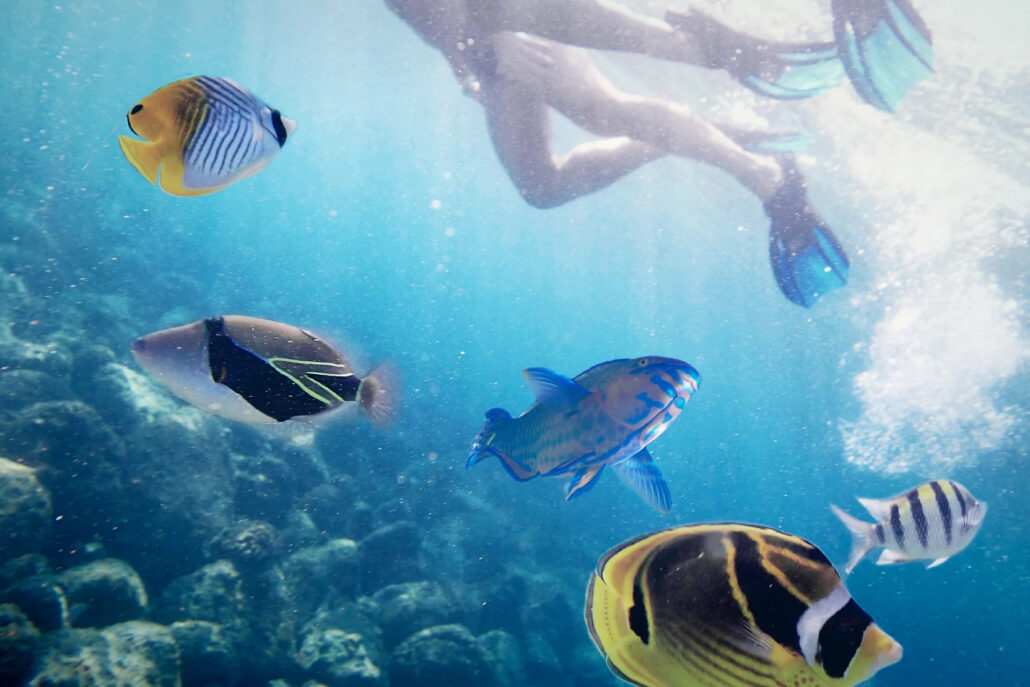 Kealakekua Bay
Nestled along the Kona Coast, Kealakekua Bay is a must-visit destination for snorkel enthusiasts. This marine sanctuary is home to a vibrant coral reef teeming with an array of colorful fish species. Some of them, like flame angelfish, butterflyfish, and lizardfish, can be found only in Hawaii.
Kealakekua Bay is the only underwater state park on Hawaii's Big Island. Its unique location is surrounded by 100-foot lava cliffs, protecting the bay from winds and ensuring calm and clear waters. The pristine waters offer excellent visibility (up to 100 feet), making it a perfect spot for snorkeling. Keep an eye out for the famous Captain Cook Monument, which stands tall near the bay. That is the best snorkeling spot in the whole bay. According to Hawaii – The Big Island Revealed, The Ultimate Guidebook, "Snorkeling in Kealakekua Bay near the monument is perhaps the best you will find anywhere in the state."
We have to say that accessing the spot is not easy. There is no paved road leading to it, and you can get there by hiking down to the monument or by boat or kayak. Difficult accessibility is one of the reasons why Kealakekua Bay provides such an unforgettable snorkeling experience.
If you choose to explore the bay on your own, you can rent quality snorkeling equipment from one of the area's many trusted equipment rental providers, such as Kona Snorkel and Sail or Snorkel Bob's. With their wide range of high-quality snorkel gear, you can gear up for an unforgettable experience in Kealakekua Bay.
Pro Tip: To enhance your experience, consider booking a guided snorkel tour that not only provides equipment but also offers informative insights about the area's rich history and marine ecology. You can check out Fair Wind Snorkel Tours to Kealakekua Bay. With them, you will enjoy the luxuries of a custom-designed vessel with the convenience of onboard restrooms, freshwater showers, and a fully equipped galley for healthy lunches and offering of exotic drinks, soft drinks, and famous 100% Kona coffee. A Fair Wind Snorkel Tour also provides snorkel gear and an assortment of floatation devices for unmatched intimate encounters with the bay's abundant and unique marine life.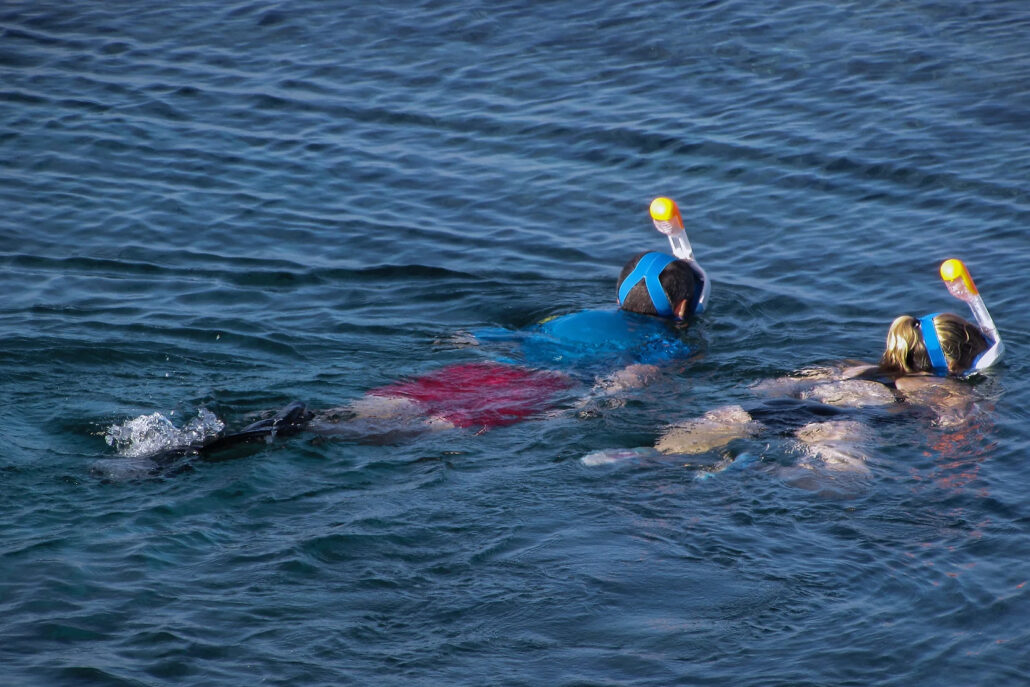 Honaunau Bay (Two-Step)
Also known as Two-Step, Honaunau Bay is located near the Pu'uhonua O Honaunau National Historical Park, also known as the City of Refuge. This protected bay boasts calm, clear waters and abundant marine life. Slip into your snorkel gear, and you will be greeted by tropical fish, sea turtles, and vibrant coral formations. The entry point at Two-Step involves stepping down a natural rock ledge, hence the name. This spot is suitable for all skill levels, making it a favorite among snorkelers of all ages.
Pro Tip: As you navigate the natural rock ledge while entering the water, exercise caution and use appropriate footwear for a secure footing.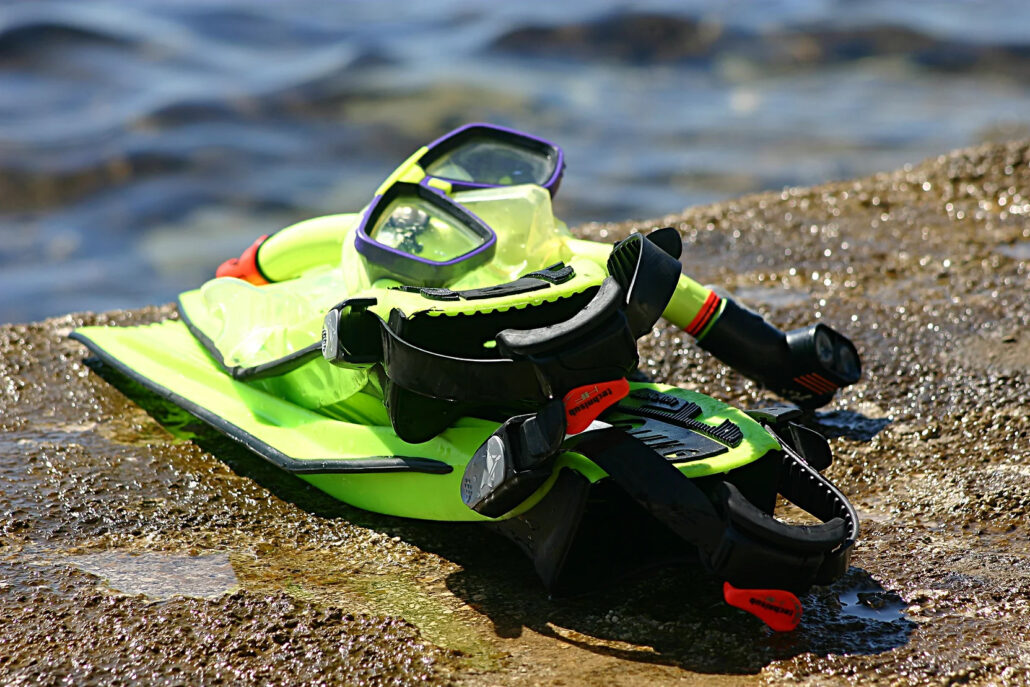 Kahaluu Beach Park
Conveniently located just a short drive from Kailua-Kona, right off Alii Drive, Kahaluu Beach Park is a popular snorkeling spot for locals and tourists alike. The bay is protected by a natural rock barrier, creating a calm lagoon ideal for snorkeling. Its shallow and warm waters are home to an abundance of fish, such as butterflyfish, surgeonfish, and Moorish idols. Kahaluu Beach Park offers various amenities, including restrooms, picnic tables, and equipment rentals, making it an excellent spot for a day of snorkeling and relaxation.
Pro Tip: Arrive early in the morning for the best chance of encountering a variety of marine species, as they are most active during this time.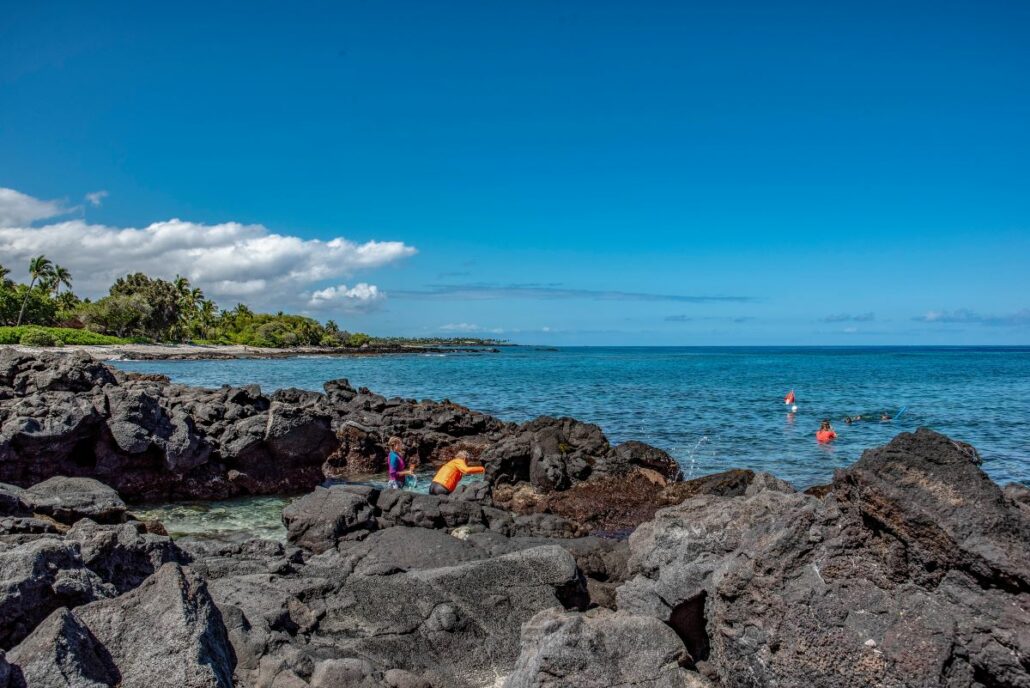 Puako Bay
For a more secluded snorkeling experience, head to Puako Bay, located on the Kohala Coast. This hidden gem is known for its diverse marine life and vibrant coral gardens. With its relatively untouched underwater ecosystem, Puako Bay offers a unique opportunity to encounter rare and exotic marine species. Be sure to explore the depths of the bay and keep an eye out for sea turtles, eels, and colorful reef fish. The calm waters and abundant underwater life make Puako Bay a snorkeler's paradise.
Puako is a small, charming community nestled between Mauna Lani and Hapuna Resorts. You will see the signs pointing to turn towards the ocean and indicating the shoreline access. Go down the Puako Beach Drive almost to the end, and you will arrive at Paniau Beach, one of the best snorkeling spots on the island. The beach provides easy water access and a few picnic tables with plenty of shade from surrounding trees.
If you are staying in one of the Kohala Coast Resorts, that is the perfect spot to visit. For equipment rentals, check out Puako General Store or Snorkel Bob's at the Shops at Mauna Lani.
Pro Tip: Bring an underwater camera to capture the mesmerizing beauty of Puako Bay's marine life and coral formations.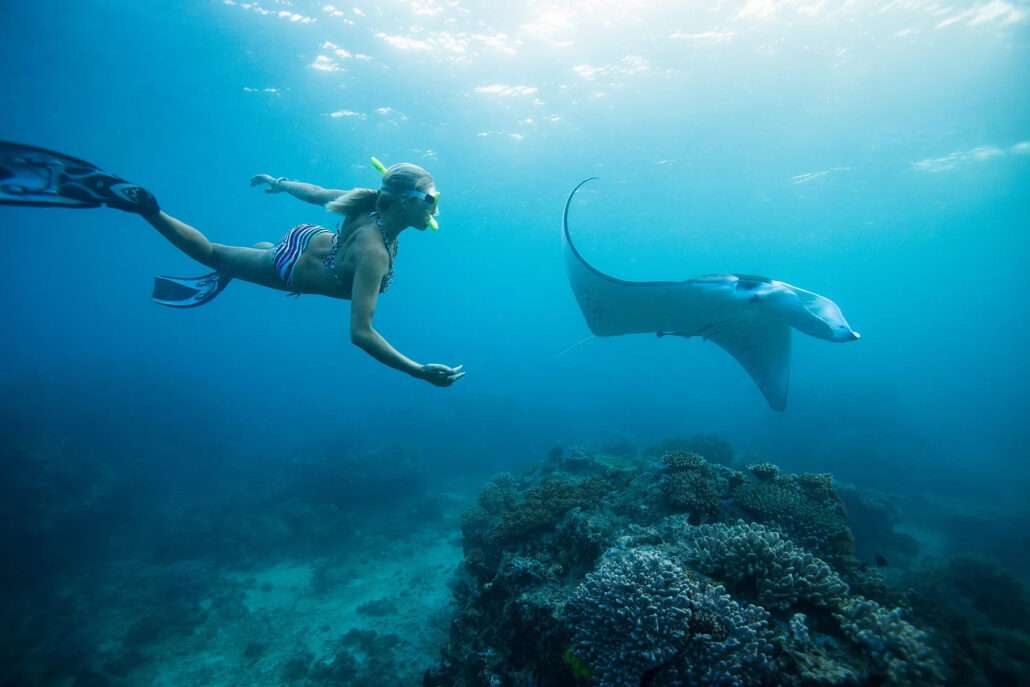 Mauna Lani Bay
Situated within the Mauna Lani Resort area, Mauna Lani Bay is a beautiful destination that offers incredible snorkeling opportunities. Its calm, turquoise waters are perfect for snorkelers of all levels. The bay is home to an extensive coral reef system, providing a haven for a wide variety of marine creatures. As you explore the underwater world, you may encounter spinner dolphins, manta rays, and a myriad of tropical fish. Take the chance to snorkel around the ancient fishponds in the area, adding a touch of history to your snorkeling adventure.
The bay can be accessed through a Mauna Lani Private Beach Club, a gated private club for owners and guests of the resort, or by walking through a park right across the street from Mauna Lani Fitness Center. It is a relatively short and easy walk, and you will go by the famous King's Fish Ponds, which in themselves deserve to be seen. The guest pass will be provided if you stay in one of our Mauna Lani Vacation Rental Villas.
Pro Tip: Consider participating in a guided manta ray snorkel tour, available through local operators, for a chance to witness these graceful creatures up close.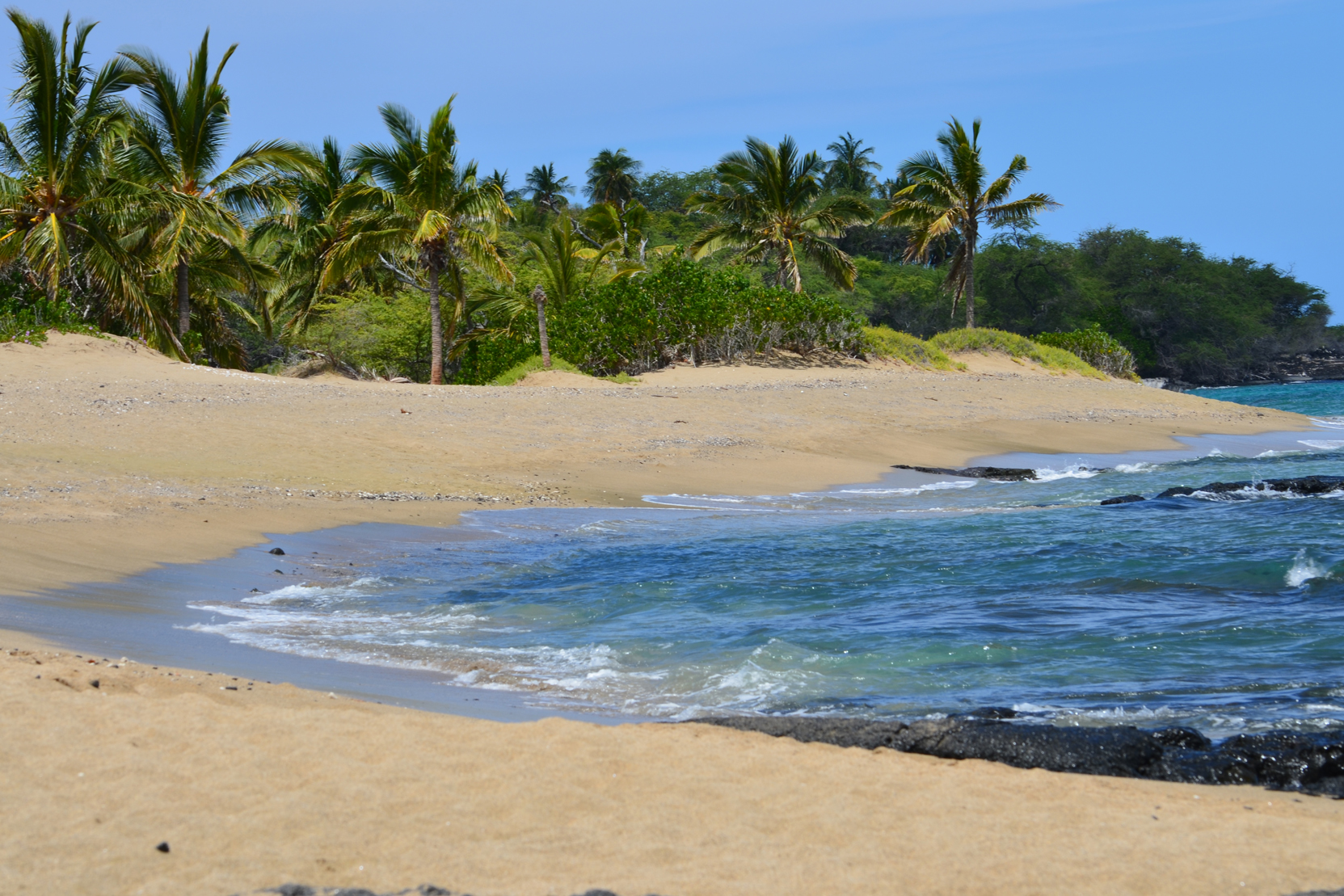 Shipwreck Beach
Last but not least, we must mention our favorite wild Shipwreck Beach, located at Waikoloa Beach Resort. We already wrote about it in our previous blog, but if you are unfamiliar with it, it is one of Waikoloa's most prized possessions.
You will likely not find this beach in any of the Big Island's tour guides, as it is unknown to many (even locals). Located south of the A-Bay (Anae'hoomalu Bay Beach) in Waikoloa Beach Resort, it is a secluded wild white sand beach perfect for sunbathing, swimming, and snorkeling.
To get there, go to the A-Bay Beach in Waikoloa Beach Resort. Park your car in the parking lot and walk to the beach. Once there, turn left (south) and keep walking along the shoreline past the restaurant, then under the trees, for about 15-20 minutes. You will know you have arrived when you see an old, rusted engine (probably a remnant of a shipwreck decades ago, hence the name) on the beach. You can stay right there (that is the best spot) or keep walking farther – it is all beautiful there.
The beach is idyllic during the summer months. If you get there early in the morning, no one will likely be there, and you can have the whole beach to yourself. The reef is right off the shore, and plenty of marine life, including fish and green sea turtles, is perfect for snorkeling. You can find shade under the trees; if it gets too hot, a quick dip in the ocean will cool you down.
Pro Tip: Since it gets hotter in the summer, avoiding the beach between noon and 2 p.m. is advisable unless you can find shade. That is the time when the sun is strongest. The best time to go is in the morning or later afternoon – you will still get plenty of sun and fun. Make sure to drink plenty of water, use sunblock, and protect yourself from overheating – it can creep up on you without you noticing it.
The Big Island of Hawaii is a snorkeler's paradise, offering a plethora of magnificent underwater wonders to explore. From the vibrant coral reefs teeming with exotic fish to encounters with sea turtles and other marine creatures, each snorkeling spot on the island provides a unique and unforgettable experience. Whether you're a seasoned snorkeler or a beginner, these top five snorkeling spots—Kealakekua Bay, Honaunau Bay (Two-Step), Kahaluu Beach Park, Puako Bay, Mauna Lani Bay, and Shipwreck Beach – offer breathtaking beauty and abundant marine life. So grab your snorkel gear, dive into the crystal-clear waters, and embark on an unforgettable journey through the underwater wonders of the Big Island!
Get more from your vacation by booking 7 nights and get the 8th night free! 
Mention the words "ENDLESS SUMMER" to our reservationist and receive this terrific value on most of our vacation villas!