Known as "Hawaii's Island of Adventure", the Big Island of Hawaii offers a variety of places to explore, including some of Hawaii's most incredible natural wonders and historic sites. No other island gives you a place to swim with manta rays, horseback ride, and whale watch, all on the same visit. No other island lets you see a fiery volcano, a 420-foot waterfall, and a black-sand beach. No other island offers so many cultural treasures in so many varying environments. What are some of the best things to do right now? Two words: whales and volcanoes.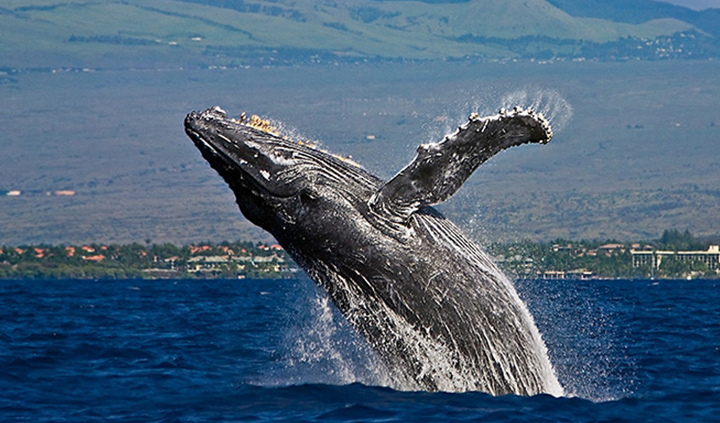 Winter is a season for whale watching. Hawaii is a favorite wintering spot for humpback whales, which means you can look out to sea on any winter day and spot these majestic creatures. Hawaii is the only state in the U.S. where humpback whales mate, calve and nurse their young, and has one of the largest seasonal populations of North Pacific humpbacks in the world. The whale season lasts from November to May, with the peak of the season between January and March.
Seeing one of these 40-ton, 40-foot-long giants breach the water is an unforgettable sight. You can schedule a tour or charter a boat to spot these magnificent creatures. Treat yourself to scenic ocean views as guides take you to the best spots to observe whales playfully surfacing, tail slapping, or blowing spouts in the air. Regulations prohibit boats from approaching within 100 yards of a whale and you should never swim with or touch whales or any other marine mammals.
You can also spot whales from the island of Hawaii's beautiful beaches along the Kohala Coast. The Puukohola Heiau National Historic Site is an excellent site to see whales, with sweeping, elevated views near Kawaihae Harbor. Puukohola means "hill of the whale" in Hawaiian. On the east side, Hilo Bay is another place popular for whale sightings. Other species of whales are attracted to Hawaii's warm, shallow waters year-round, so wherever you travel on the island of Hawaii, keep your eyes open for these marine visitors.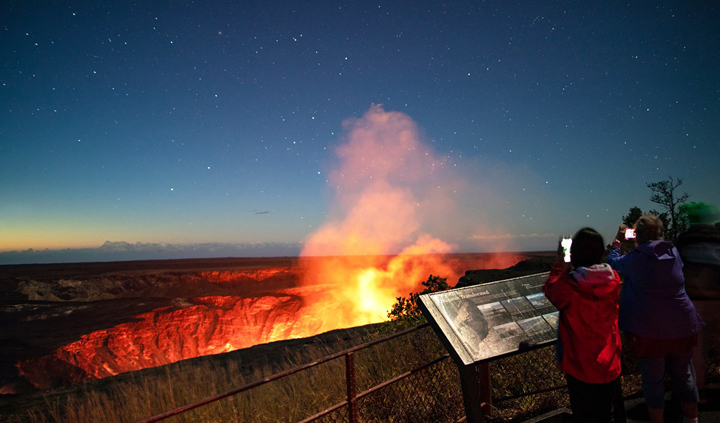 On December 20, 2020, the Kilauea volcano located in the Hawaii Volcanoes National Park, began erupting again after two years break. Three initial vents in the wall of Halemaʻumaʻu crater cascaded lava flows into a growing lava lake on the crater floor.
As of February 10, the lava lake is more than 700 feet (214 m) deep and is partially stagnant. Lava's glow and plume are visible from a distance, and the best time for viewing the caldera is at night. You can head over to the historic Volcano House Hotel, where you can have a cocktail by the fireplace or enjoy excellent cuisine against the spectacular backdrop of Kīlauea's powerful glow.
Even though some areas of the park are closed due to COVID, there's plenty to do, from wilderness adventures to short walks and scenic drives. To learn more, click here.
Or you can embark on the Circle of Fire helicopter tour for a breathtaking adventure, seeking out the island's unique rain forest, newly formed landscapes, and black-sand beaches, and witnessing the results of Madame Pele's incredible volcanic activity—scenes of nature's raw power that you'll never forget! For more information about the tour, click here.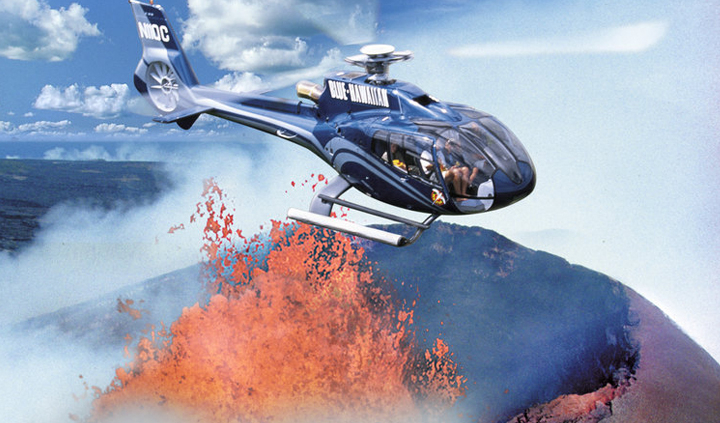 Save on your Hawaii vacation rental
Remember, you can always save 10% on your vacation rental when you book direct with us and mention "Aloha escape" in your reservation.
We hope to see you soon – a hui hou!
Images courtesy of GoHawaii.com, Hawaii Volcanoes National Park, BigIslandHelicopterTours.com.